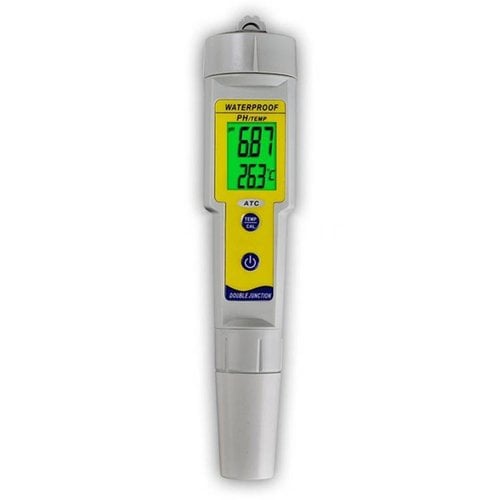 PH Meter | PH Meter Pool, Aquarium, Brewing ...
PH Meter | Buy PH Meter? 
PH Meter pool, pond, aquarium, beer, brewing.
PH Meter, how does that work?
A pH meter is a meter that determines the pH value of a liquid or solution by measuring the potential difference. In this case, this measurement occurs by immersing a porous glass electrode in a liquid to be analyzed. To obtain a correct operation of your pH Meter, you must calibrate it regularly with a calibration solution or buffer solution. This is a liquid with a fixed and known pH value so that you can correct the deviation of your pH meter. Check out our calibration solutions here .
What is pH?
pH is a value to express the acidity or acidity of a solution. The pH Value is usually expressed on a scale of pH 0.00 to pH 14.00 with the pH of a neutral solution at room temperature 7.00. A pH value between 0.00 and 7.00 is considered acidic, the closer to the 0, the acidier the solution. The counterpart of an acid is called a base and finds between pH 7.00 and pH 14.00. Here too, the closer to pH 14.00, the more basic the solution. A pH value is logarithmic, that is, a pH value of pH 4.00 is 10x acidier than a pH value of pH 5.00 and 100x acidier (10x10) than a pH value of pH 6.00. You can see that a small deviation can have a big impact, so reliable and accurate pH measurement is recommended. So choose an affordable and accurate pH meter from phmeter.eu
Why do you need to measure pH?
A pH measurement is in many cases the first and most important step for further water treatment, nutrition for plants, soil research, etc. Also for fish and plant holders in aquariums and ponds, daily monitoring of acidity is absolutely indispensable. A slight fluctuation in the pH value can already be a disastrous consequence, so check for sufficient and timely one of our reliable and accurate pH meters. Below are some additional explanations for the most commonly used applications.
Why choose a pH meter from phmeter.eu?
Are you looking for an accurate, reliable and affordable pH meter to find the pH value? Discover our carefully selected models and choose the best device for your application or budget. All our pH meters are selected because of very good price / quality, accuracy and options. Save money without sacrificing quality of your measurements or options and order your next meter at phmeter.eu! All our meters are tested and calibrated, so you can start measuring accurately and accurately.
PH meters for swimming pool and spa
PH Meters is absolutely unavailable to any owner of a swimming pool, swimming pond or spa. For proper functioning and disinfection of your swimming pool and spa, it is necessary that your pH is between 7.00 and 7.60. In addition to these values, the chlorine is only minimally active, too high or low pH can also be harmful to your liner, tiles, fittings and your technical installation. If you use an automatic dose for pH and Chlorine, you should also manually record the pH with a reliable pH meter manually to avoid and detect possible problems.
PH Meters for aquarium and pond
Owners of fish and other aquatic animals and plants know just how important it is that their loved ones and often expensive animals can live in the best conditions. A pH meter is an indispensable tool for this target group.
PH Meters for garden and growers
Accurate pH meters for garden and cultivation applications . Our largest group of customers are professional growers and growers of plants and crops. For both the soil and the nutrition of their plants, a correct pH value and regular acidity analysis is absolutely necessary to optimize the health of their plants and crop yields. A good pH meter can thus make the difference.
PH Meters for brewers and labs
The rise of hobby and micro breweries has also greatly increased the demand for pH Meters. If you boil wine, beer, gin or other, you know that you should follow the correct acidity of your brew.
All our pH Meters are perfectly suited for these measurements. Check out our range and click on the product to find out more. If you have any questions, please send us an email to info@phmeter.eu and we will assist you as soon as possible.